It's like there's something in the water and so many of us are getting more interested in these topics.
I've had countless conversations recently around growing a garden, learning how to can and preserve foods, raising chickens for eggs and meat, milking cows, raising meat rabbits, raising pigs and cows, and so much more.
We are at a time in our society when so many of us want to return to these lost skills and see great benefit to learning these things again.
But since we are so far removed as a society from our food production and from the land, every single step along the way can feel daunting and overwhelming. And most people we know are not even remotely interested in these same topics or have the skills to share.
--> But I firmly believe that there is no better time to starting slowly investing in these skills and trying these things out for yourself.
I had someone recently tell me, "Jami, you were born 50 years too late with all this homemaking and homesteading stuff you do!" Many today see these skills as ancient and irrelevant in modern times. Or maybe just as a hobby that most "modern" people just don't have time for.
But there has been a resurgence of those of us who know the truth: We are not digging into "old hobbies" for purely sentimental value. We are slowly bringing back essential life skills that have been gone for two or three generations. We are seeking to create a different path for our children and to change our lives.
So whether you are all in on this homesteading stuff and you've got 20 acres ready to turn into your dream homestead, OR you live in the suburbs and want to take your first baby steps into this world… I have something incredible to introduce you to!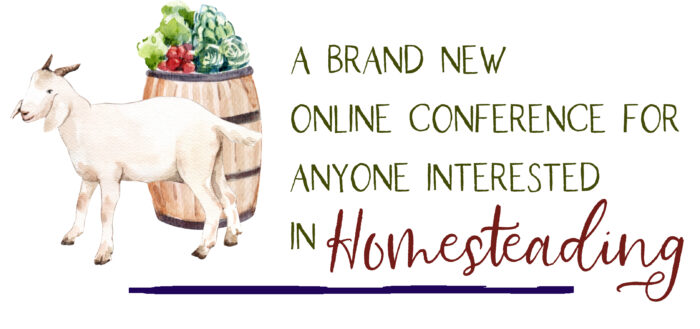 We are launching our first ever Hands-On Homesteading Online Conference! It will take place July 25-28th and will feature 17 hands on, practical, and encouraging conference sessions in all aspects of homesteading…no matter where you are in the process!
And the best part? You get lifetime access to the conference material so that you can join us this month to view, or watch it 6 months from now when you are ready to dive in further.
With your ticket you'll get lifetime access to all the sessions, a conference notebook so you can follow along with each session and take notes, and 2 incredible bonuses we've put together.
Scroll down below to read about ALL the speakers + sessions and what the bonuses are! This is an event you won't want to miss!! 🥳
P.s. We make it SUPER easy to access for everyone with a busy schedule. You'll get to watch all the sessions throughout the week as they post AND then have access to those sessions for later whenever you want to watch. Don't let a busy schedule stop you from making some very important baby steps!!